Regular price
$122.00 SGD
Regular price
Sale price
$122.00 SGD
Unit price
per
Sale
Sold out
The Kimya PEBA-S 3D filament is a thermoplastic elastomer. Polyether block amide (PEBA) is produced via polycondensation of a carboxylic acid polyamide with an alcohol-terminated polyether. PEBA, based on PEBAX by Arkema, is very flexible: it has the best elongation % in the range (>550%).  It can be used to make shoe soles or other sports equipment (cycling, golf, American football helmets) as it offers substantial energy return. The Kimya PEBA-S  3D filament has the following properties:
Flexibility (>550% tensile elongation at break)
Impact resistance
Complies with the REACH regulation and the RoHS directive
Recommended Printing Temperature
Nozzle Temperature: 210-260C
Heatbed: 70-90C
Specifications

Diameter: 1.75mm (2.85mm available on request)
Net Weight: 0.5kg
Packaging Weight: 0.8kg
Packaging Dimension: 207 x 60 x 205mm
Spool Dimensions:
Outer - 200mm, Thickness - 37mm, Inner - 52mm
Key Features

Premium High-Quality 3D Printing Filament
Easy to Print
Made in France
Experts in Industrial 3D Printing Materials
Compatible with most FDM/FFF printers
SDS/TDS Certification Available on Request
Need Help?

Can't find what you are looking for? Have questions about the product?

Feel free to reach out to us here!

Or email us directly: hello@beyondbynd.com
Bulk Buys

Purchasing in large quantities?

Let us know what you need!

Email Us: hello@beyondbynd.com
Share
View full details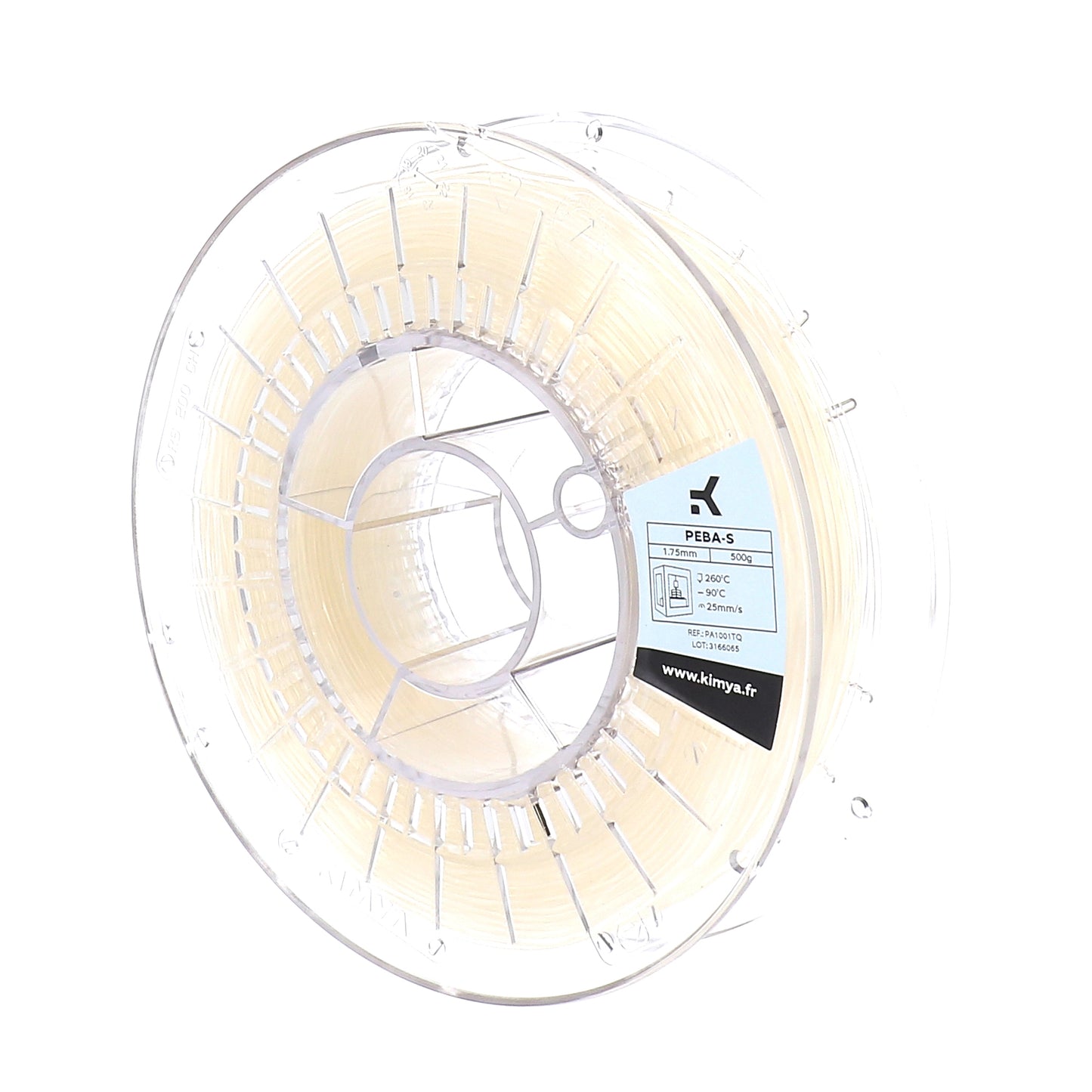 Kimya
The Kimya brand, launched by ARMOR, offers innovative solutions using made-to-measure 3D materials adapted to the needs of industry.
The "Kimya Lab" supports international industrial groups by designing made-to-measure 3D materials which meet their exact specifications. The "Kimya Lab" experts exclusively develop high-technology 3D materials.
What is the future of the industry according to Kimya? The on-demand manufacture of high added value prototypes and pre-production using demanding 3D materials adapted to the exacting needs of industry!
With continually improving technology, 3D printing solutions to the needs of industry are getting better and better, and relieve the biggest actors of the constraints which their manufacturing processes have always been subject to. The objective? Increased reactivity and autonomy. With theKimya's 3D materials, reducing the costs of large-scale production and storage is immediately achievable. The result of fine-tuned production: an increase in profits and on-demand manufacturing without the risks.